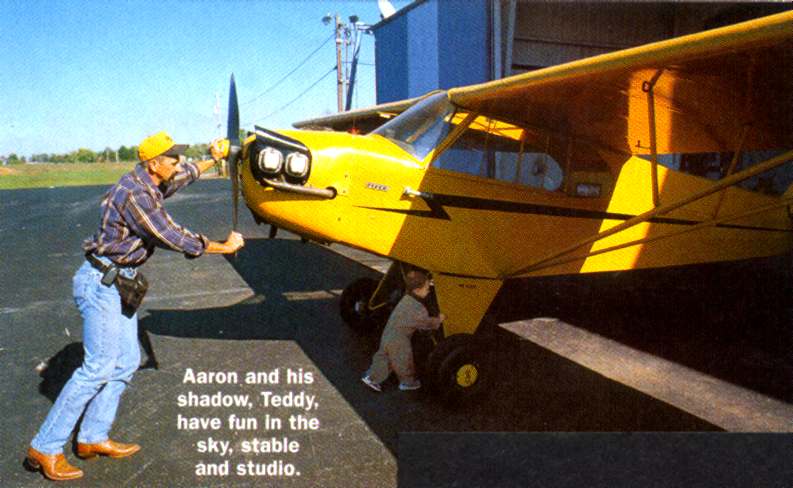 Aaron Tippin is a man of many talents and pursuits. Aaron's first and second allegiance, of course, are his family and his music. A third following closely is firearms and hunting, as evidenced with his opening of a couple of gunshops bearing his name. But, there is another dimension to an already multi-faceted person: Aaron's love of airplanes and flying. I have to say that this is one of Aaron's passions that totally fascinates me.
To give you a little background and history:
Aaron is not the only flier in his family. He was first introduced to flying at a very early age by his daddy, veteran pilot, Willis 'Tip' Tippin. According to Aaron, his daddy has been a bush pilot, crop duster, corporate pilot; Aaron has been around airplanes all his life. Going back even further, Aaron's daddy was a US Navy fighter pilot during World War II, manuvuering a F4U Corsair. A mid-air photo of the F4U Corsair Aaron's daddy actually flew during World War II hangs in his daddy's living room. His daddy was also a flight instructor with the US Navy during the Korean War, eventually leaving the Navy and joining the US Air Force. Stationed in Bainbridge, GA, his daddy was a flight instructor flying T-37s. In addition, at one time, Aaron's daddy owned his own airport, Greenville Air in South Carolina. It's pretty evident where Aaron got his love for flying.
According to Aaron's daddy, Aaron got his first plane ride when he was about 3 or 4 years old. In fact, his daddy used to take him with him whenever he could. Apparently Aaron was the only one of his children who showed an interest in flying and planes.
Learning to fly in a DC3, Aaron has flown countless aircraft, including Cessnas, Pipers, Air Coupes, since that first flight. According to Aaron, he soloed at sixteen, and earned his multi-engine instrument license by the time he was nineteen. Aaron was soon earning a living as a corporate pilot for several companies, such as Stevens Aviation, around Greenville, South Carolina; by that time he had logged over 2500 hours of airtime. Enroute to earning his commercial airline transport rating and planning on a career in aviation as a commercial pilot, the energy crunch hit in the early eighties ~ allowing Aaron to pursue his first love, country music. The rest is history. Needless to say, country music and, ultimately, us fans, benefited from that turn of events.
However, even though music and his other ventures consume a big part of his life, Aaron has not given up flying. In fact, Aaron recently built an airplane hanger on his Tennessee farm and cleared one of his pastures to put in a 2000-foot runway. When he's home and has the time, he will take off and land one of the Piper Cubs right on his own property. Pretty cool, huh? Aaron's other airplanes are housed at Smithville Airport in Smithville, TN.
Note of Interest: The plane in the photo is one of two Piper Cub J3's that Aaron owns.
Photo Credits: Tim Campbell, Country Weekly Magazine, 00 June 27 Issue
From article: 'Big Boys, Little Boys and Their Toys'; Story by: Gerry Wood