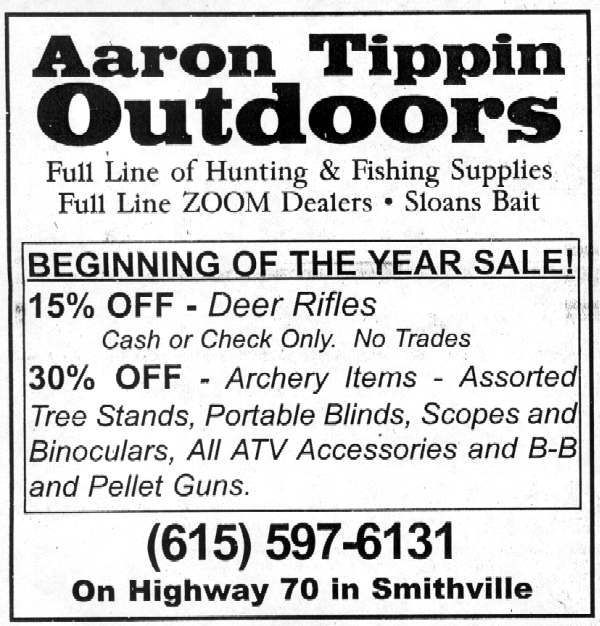 Enroute to Aaron's final concert for the year 2000, in Paducah, KY, Connie and I decided to take the scenic detour past Aaron's store, Aaron Tippin Outdoors in Dowelltown, TN. As luck would have it, we chose one of their busiest days....the day preceding the first day of deer season. Pretty hectic day, lots of business with lots of hunters. A note of interest: At 4am the next morning (18 November), a free breakfast for the local hunters was provided by Aaron Tippin Outdoors, with Aaron serving breakfast.
While we were there, we were able to take several photos of the expanded gunshop and convenience store. Unfortunately, we missed Aaron; he had already left for the day. If you get down that way, make sure you stop by Aaron's store. You won't find a more friendly bunch of folks, proprietors, employees and customers.
Please Note: Chris Tramel, Managing Editor, was kind enough to send me a couple of photos taken in Aaron's gunshop that actually appeared in the newspaper, The Middle Tennessee Times.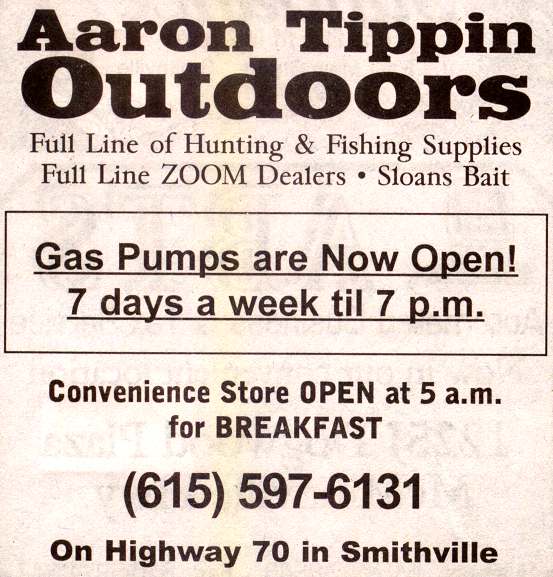 Ads Used With Permission: The Middle Tennessee Times
09 January 2001
14 November 2000
Aaron Tippin Outdoors Links:
* Aaron's Turkeys *
* Hunting Gear, Firearms and Accessories *
* Fishing Gear and Accessories *
* Aaron Tippin Outdoors *
* Articles and Ads *
* The Middle Tennessee Times Photos *