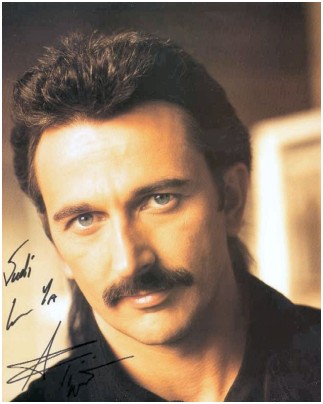 Aaron Tippin
'Read Between the Lines'

I saw Aaron Tippin in concert for the first time in June 1993, at the Tangier Music Festival in Crisfield, MD. Needless to say, his show was dynamite. When it was announced that Aaron would sign autographs for his Fan Club members after his show, I vowed right then I would join. Never in my wildest dreams did I think I would be able meet 'Country Music's Finest.' But, I did.... I was able to go back stage for the first time as a Fan Club member in September 1993, at the York County Fair in York, PA. I just know I was a 'blithering idiot' that night. Thank goodness, one of Aaron's crew took pictures of this terrific guy standing next to me.
I have seen Aaron many, many times since then (the butterflies have never completely gone away). I have watched him with countless fans, and it never ceases to amaze me how special he makes each and every one feel. He looks at each fan directly, and takes the time to listen to what they have to say. Over the years, I have watched numerous fans, full of anticipation at meeting a country music superstar. They are never disappointed; they always leave with a grin from ear to ear, with great memories. Aaron's fans are some of the most dedicated on earth; I know, I see them time and time again at shows.
Thanks Aaron.... For all the great memories, and the terrific friendships I've made over the years. You are truly one of the 'good guys;' the world is a better place because of you.
Judi
Email: myblueangel2@hotmail.com