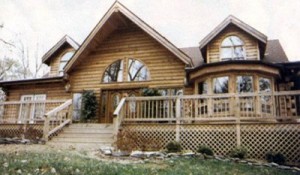 Perched on a hilltop about an hour east of Nashville sits a log home on 300 rolling acres of forested porperty. It's not the customary log home that's often a retreat for some star to hang out with his buddies and go fishing. Instead, it's a home. It's the kind of place to start a family, enjoy nature, write a few hit songs and maybe do a little hunting on the side. In other words, the sizable, three-bedroom residence is the ideal spot for Aaron Tippin.
Greeted by Aaron's wife, Thea, I'm introduced to Aaron as he sits contendly on the couch with his 11-month-old son, Teddy, resting on his chest. It's an unexpected sight to see the muscle-bound artist who's made a career out of chest-pounding country music in such a delicate position. Off to the side is their Weimaraner named Buddy. He's the dog on the cover of Aaron's latest album, What This Country Needs. "That wasn't a planned shot," says Aaron. "I was just on his couch and he wanted on there."
The spacious den is centered around a large fireplace that's surrounded by several trophies of his hunting prowess. The rule is, says Aaron, "It has to be killed on this property. Anything else isn't allowed in the den."
As he hands off Teddy to show the photographer and me around, it soon becomes clear that he's every bit as tough as teh clue-collar music he writes and sings about. As we discover, he's as comfortable underneath an automobile (in the large hangar where his bus resides) as he is behind the wheel of a backhoe, both of which he enjoys showing off. In fact, a big smile creeps across his face as he offers to "fire up" the massive backhoe. Moreover, he delights in showing the photographer how to run the monstrous dirt mover.
Another facet of Tippin happens to be his sense of humor. He was recently featured on the cover of Playgirl magazine. He asks if I've seen the story. When I offer up a negative response, he laughs, "Good. I'm kind of leery of guys who way, 'Hey, I saw you in Playgirl."
Before you get too worked up, just know that Aaron is fully clad in the feature. He wasn't going to do anything his "momma" would be upset about. He joked in the Playgirl interview that the "difference between sex and romance" was, in his words, "about an hour."
The house is also shared by Charla, Tippin's 21-year-old daughter by a previous marriage. She's studying marketing as nearby Tennessee Tech.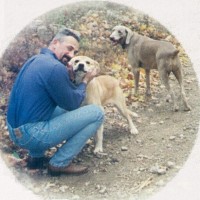 Tippin, raised in the Appalachian Mountains of western South Carolina, moved to Nashville in 1987. He arrived in a beat up 1975 Toyota named Dazee, which would later inspire his first No.1, "There Ain't Nothin' Wrong With The Radio."
As he had throughout much of his life, Tippin continued dto home his songwriting skills while in Music City. David Ball, Charley Pride and Mark Collie are some of the artists that cut his songs. Tippin's career seemed to be on a one-track course as a songwriter until his first performance at a Nashville nighclub in 1990. The show earned him a recording contract with RCA records.
In 1991, the former farm hand, factory worker, truck driver, body builder and airplane pilot, released his debut album, You've Got To Stand For Something. Over the years, his songs of hard work and blue-collar values have made him instantly recognizable. He hit the charts with such songs as "I Wouldn't Have It Any Other Way," "My Blue Angel," "Working Man's PhD" and "I Got It Honest."
| | |
| --- | --- |
| "This may be the most popular porch in Nashville. 'What This Country Needs' was written here. 'Back When I Knew Everything' was written here... I think most of the guys and gals that write with me like to come here because it's real neat." | |
After more than two years, Aaron is back with a new album, What This Country Needs, on a new record label, Disney's Lyric Street Records. His current signle, "Foy You I Will," continues up the charts, nearing the Top-10.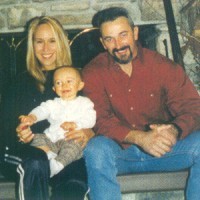 It's apparent that the new album is a reflection of the 40-year-old entertainer's life today. It's an infusion of blood-and-guts country with his new-found feelings of hearth and home. The same feelings resonate though-out our interview, as Tippin throws around words like family, integrity and honesty. It's evident that his music and his life are tightly intertwined.
As we sit down to talk, Tippin is careful to make the photographer and me at home. He often starts sentences referring to each of us as his "buddy" and is open to showing us around his home and later inviting us to a local "meat-n-three" restaurant to grab some lunch with his family.
You've got a new label, how did that come about?
Well, I resigned from RCA.
How do you resign from a label? Do you walk in and say, "I resign?"
I think both sides realized that we had probably gone as far as we could go with this career. And so one day me and (label president) Joe Galante went to lunch. I just asked him what he thought about us continuing to work together. They had their doubts and I had mine, and we just decided mutually that the best thing for me to do was to go try somewhere else. I had been out there touring seven or eight years and I was really tired. It was almost two years before I signed with Disney. I wasn't in any big hurry. I wanted to rest a little while.... Everybody heard that we were resigning from RCA. In about a week, folks started calling, "Are you interested in cutting records here?" We talked to everybody.
That has to make you feel good.
Yeah, sure it did. One thing I've always tried to do is do things the old-fashioned way, the honest way. I didn't have anything under the table when I went to RCA to resign. We just stepped off into the deep end just hoping that we would find something and we did. Integrity has its rewards, I guess.
You co-wrote the song "Back When I Knew Everything." Give me an example of something you've been through that you not think, "What was I thinking?"
I think of all the times I've bolded up at work, some boss says, "Where were you?" Well, "you can kiss my ass." I walked off a job, one of the best jobs I've ever had. That's a good example. I think in this career I've always kind of been me. Whether it was popular or not. And often times I've probably showed it to folks. I can't help it. I believe I have a cause, and I think I'm here for a reason and that's country music.... And sometimes you get to pushing the buttons a little too hard. I hope I haven't hurt anybody's feelings. I'm sure I did, I wish I hadn't of. I hope they forgive me. That's what that song's about.
Have you written a lot of songs out here?
This may be the most popular porch in Nashville. "What This Country Needs" was written here. "Back When I Knew Everything" was written here.... I think most of the guys and gals that write with me like to come here because it's real neat. You get to sit our on the porch. Turkeys come by and deer. If you get stumped, you can always go down and crank up the backhoe and dig a hole.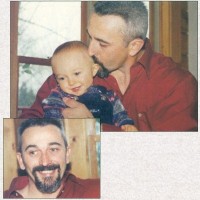 Your son's full is Theodore Emory. Where does that come from?
Theodore is Thea's dad's name, and Emory is my dad's name. So he is a namesake.
What advice had your family given you about life that you will pass on to your kids?
I think every thing I am comes from them. You got to get on up in age to realize that you are a product of your parents. Whether you like it or not. If you listen to songs like "Stand For Something" and "Got It Hones." That's my dad. And he's a bold guy. When we talk about "Back When I Knew Everything," I get that from him. It's "Charge, straight ahead! Never retreat!" I've got a proud heritage. I want to pass on honesty and integrity to my son because I got to say, man, it's almost worthless nowadays. Nobody gives a crap about their word and what it's worth. I think it's so sad. I think that it's sad to lie and cheat and steal and think dishonesty is okay. It's an accepted thing. It's hard for me to believe that we have come that far.
How have you kept from getting a big ego?
It's so easy to have everybody kissing your butt, telling you how great you are. It's so easy to fall into that trap, man. And to realize you are just another guy, and the only thing that you have different is a God-given talent. The best way to stay in touch is don't move too far away from the fans. If I hit a truck stop and some guy comes up and wants to talk to me, I'm more interested in what he does and where he's from. Country fans are great people.
You have a tattoo (of a palmetto tree and a crescent moon). Any plans on getting another one?
No.
What are you going to do if your son decides to get one?
I'll tell him the same thing I myself. Of course, my daughter, Charla, has one. I couldn't say much 'cause she really didn't ask me before she did it. But if I'm lucky enough for him to ask me, I'll just tell him, "Don't put anything on your body that you ain't going to be proud of for the rest of your life."
Any chance we'll see you branching out? Acting perhaps?
I don't think I'm much of an actor. It would definitely have to be parts that are right around who Aaron is.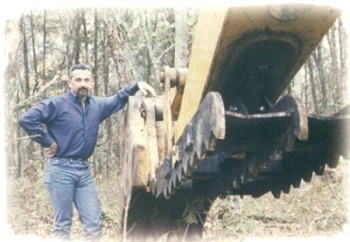 You run a firearms store. What else are you getting into?
We're getting into aviation again. I grew up around airplanes. My dad, he flew professionally. We just took over the airport here in Smithville. And so my uncle is running the airport. We're going to get a little flight school going.
You've been struck by lightning twice. Do you get nervous when it's (overcast and rainy) like this outside?
Not the lightning deal so much as when I was a kid and a tornado passed by our house, and I was there by myself. And buddy, that was an interesting experience. So when the wind starts blowing....boom! I'm up.
What happened?
I was in high school. And I'd had one lightning strike by that time. They had alerted us at school, and they were making everybody do the drills and I said, "Forget this. I'm going home." And low and behold, it passed below out house just about a quarter of a mile. Ever since then, high winds can wake old Aaron.
What's the best decision of your career?
Signing with Lyric Street.... Disney has the staying power to make it happen.
As far as order, when were you signed by the label?
I was second. Lari White was first. What a singer!
Do you get free tickets to Disneyland?
Not yet, buddy. I tell everybody, "Yeah, I'm kind of perturbed. They gave Lari free passes to the park and all they offered me was a summer job running the Teacups." (Laughs.)