This article is available online at:
http://www.reviewjournal.com/lvrj_home/2003/Sep-19-Fri-2003/weekly/22164575.html
---
Friday, September 19, 2003

Grinding It Out
Aaron Tippin still finds time for farm work amid solid recording career

By Ken White
Review-Journal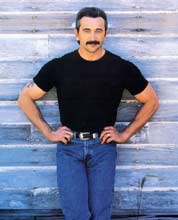 Aaron Tippin, above, joins a lineup that includes Jo Dee Messina, below, in the Double Down Throwdown country music festival at The Orleans on Saturday.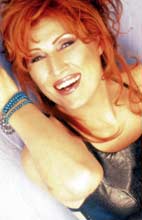 Ah, the life of a country music star. Hit records, fame, money, adulation.

Aaron Tippin enjoys all of the above these days. But then, there's a side of Tippin no fan sees or probably could even imagine. There's the country singer up to his elbows in grease while trying to fix that pesky water-in-the-gears problem with the farm equipment.

Tippin, who appears with Jo Dee Messina, Buddy Jewell, the Charlie Daniels Band, Rushlow and McHayes at the Double Down Throwdown concert Saturday in the Orleans Arena, had a rare day off on his 300-acre farm in Tennessee this week. He spent part of it "fixing stuff I broke," he said in a telephone interview.

"This is the world I come from," Tippin said of his life on the farm, broken machinery and all. "This is the world of relief and love."

Of all the stars in Nashville, Tenn., Tippin is probably the one you'd most likely see doing work around the farm. He grew up in South Carolina and spent his time as a child helping bale hay and plow the fields. He's also worked as a farm hand, factory worker, heavy equipment operator, welder and truck driver.

Tippin was headed toward a career as an airplane pilot, just like his father, but a fuel shortage hit the industry and he began entertaining the thought of becoming a singer-songwriter.

He moved to Nashville in 1986 and got a job as a staff writer with a record company. He calls it the only 9-to-5 job he's ever had.

His big break came in 1990 when he was signed by RCA Records. Since then he has recorded platinum and gold albums. He now records for Disney's Lyric Street Records.

He's been in the business 15 years, a long time by pop-culture standards, and still gets records played on country radio. But Tippin knows how the game works.

"I know one day they'll say, 'No more Aaron Tippin records,' " he said.

Tippin only has to think of the late legendary singer-songwriter Johnny Cash to know how true that is.

"It's sad, man," Tippin said of Cash's death last week. "He didn't just put a mark on country music. He'll be sorely missed. But as admired as he was, he couldn't even get played on radio."

Radio airplay is problematic for many country stars today, whether they've been recording for 30 years or three. It's a matter of keeping up with the latest trends and sounding fresh. Since country music's last surge of popularity more than 10 years ago, the country radio format seems to have fallen on somewhat hard times across the country. Ratings have dropped a bit as the music's crossover appeal has waned.

Every 10 years or so, going back to the early 1970s, country music has cycled through changes in its sound and grabbed mass popularity for years at a time, only to slip back to previous levels of enthusiasm.

Tippin thinks "it's overdue now" for another rejuvenation.

"A unique sound or style seems to matter more now, and that's a good sign," Tippin said.

Tippin is currently writing songs for his next album, the follow-up to "Stars and Stripes," released last October.

"I usually like to start a song with a good hook or a great title that inspires me," Tippin said. "I use ordinary sayings you use in everyday life. It seems to work for me."

It hasn't hurt to add a little patriotism into the mix, either. The album produced the hit single "Where the Stars and Stripes and the Eagle Fly."

Tippin has skipped the controversy over the Dixie Chicks negative remark earlier this year about President Bush, but said that while he doesn't agree, his hat is off to them "for saying what they think. But it comes with a cost," Tippin said. "Putting politics into your art, you shouldn't be able to get away with it. I always admired what they do musically."

Tippin said the Dixie Chicks, who lost airplay and fans, aren't the only ones to be hurt because of what they've said or done.

He's lost fans who won't listen to his records anymore when they find out he owns a gun store.

"I've been beat up for what I believe, too," Tippin said.





Copyright © Las Vegas Review-Journal, 1997 - 2003. All rights reserved.