This story is available online at:
http://www.livedaily.citysearch.com/news/4536.html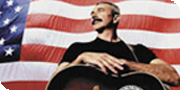 Aaron Tippin's 2003 tour to cover much of the U.S.
by Rob Evans
LiveDaily News
January 21, '03 3:32 PM PT
Country singer-songwriter Aaron Tippin is lining up a typically robust mix of casino, theater, fair and festival appearances that will keep him very busy in the coming months. The South Carolina native--who currently resides DeKalb County, Tenn.--typically plays about 90 concert dates each year, according to his label, and his 2003 itinerary is quickly filling up.

Tippin's latest album, "Stars and Stripes," was released last September. It was led by the single "Where the Stars and Stripes and the Eagle Fly." The CD's second single--a duet with his wife Thea titled "Love Like There's No Tomorrow"--was released in December.

Perhaps best known for his hits "That's as Close as I'll Get to Loving You," "You've Got to Stand for Something" and "There Ain't Nothing Wrong with the Radio," Tippin has logged six gold albums (signifying shipiments of more than 500,000 copies) and one platinum album (for shipments of over a million) over the course of his 12-year musical career.

According to his official website, Tippin worked as a farmhand, factory worker, airplane pilot, heavy equipment operator, welder and truck driver before he made it in the country music business.
[Note: The following tour itinerary has been provided by artist and/or tour sources, who verify its accuracy as of 21-Jan-2003. Changes may occur before tickets go on sale. Check with official artist web sites, ticketing sources and venues for late updates.] January 2003
25 - Warsaw, IN - Wagon Wheel Theater
31 - Biloxi, MS - Grand Casino

February 2003
2 - Everglade City, FL - Seafood Festival
21 - Little Rock, AR - Barton Coliseum
22 - Ft. Worth, TX - Billy Bob's Texas
28 - Tulsa, OK - Tulsa Expo

March 2003
2 - Hankinson, ND - Dakota Magic Casino
8 - Cambridge, MD - Sailwinds Park

May 2003
2 - Verona, NY - Turning Stone Casino
3 - Aurora, OH - Six Flags Adventure
31 - Nashville, IN - Little Nashville Opry

June 2003
13 - New Berlin, IL - Sangamon Fair
27 - Suttons Bay, MI - Leelanau Sands Casino
28 - Oshkosh, WI - Country USA Festival

July 2003
12 - Palmdale, CA - Starlight in the Park
13 - Kelseyville, CA - Konocti Harbor Resort
17 - Merced, CA - Merced County Fair
18 - Susanville, CA - Lassen County Fair
19 - Central Point, OR - Jackson County Fair
24 - Paso Robles, CA - California Mid-State Fair

August 2003
9 - North Washington, PA - VFD Rodeo Arena
15 - Skowhegan, ME - Skowhegan County Fair
16 - Smethport, PA - McKean County Fair
17 - Parkerburg, WV - Homecoming Festival

Originally published: 21-Jan-2003 (C) 2002 Ticketmaster. All rights reserved.