The article is available online at:
http://www.dixieweb.com/2003/091603.htm
Note: Aaron and Thea live in DeKalb County, Tennessee, and are very active in local community events. However, Aaron's tour schedule prevented him from participating in this year's 2003 DeKalb County Rallies For America. To view photos of Aaron, Thea and Charla from 2001 DeKalb County Rallies For America, go to: https://members.tripod.com/myblueangel/articles/rallyforamerica.html
---
DeKalb County Rallies for America
By Chris Tramel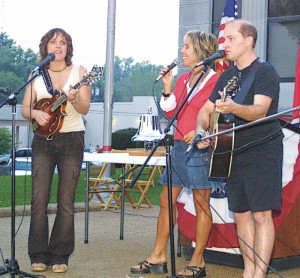 Rhonda Vincent, Thea Tippin and Darren Vincent wow the crowd at the "Rally for America."


Hundreds of DeKalb Countians filled the east side of the Square on Tuesday, September 11th, as local residents showed support, patriotism and prayer in remembrance of the tragic events in New York, Washington, DC and Pennsylvania on September 11, 2001.

The event was organized by members of the Smithville/DeKalb Chamber of Commerce with Tom Duggin serving as Master of Ceremonies.

The DeKalb County High School Band performed at the opening of the event after which the Smithville Community Chorus presented their 'Tribute to America' as a kick-off for the ceremony.

DeKalb County Executive Mike Foster delivered opening remarks with Jonathan Watson of Cumberland Presbyterian Church providing the invocation.

Among others participating in the ceremony were Norman Underhill with a touching poem entitled 'I Am The Flag', DeKalb County Scouts leading the Pledge of Allegiance, Clarence Young singing 'God Bless the USA', a youth choir from area churches, Ron Sifford reading 'What is a Veteran?' and Bill Robertson of Elizabeth Chapel Baptist Church recognizing area soldiers who are currently serving in the armed forces.

Emergency Management Director Charlie Parker explained the need of continued support for local authorities, stating, "Our nation has undergone many changes since that day, from times of peace to times of war. We have developed a new homeland security team from the national level all the way down to our own county. We need to continue to support our troops that are overseas fighting this war on terror. We also need to support our local homeland security team that is in our county - the ones that, day in and day out, answer our call for help."

Parker then observed a time-honored tradition of the 'Ringing of the Bell', saying, "After September 11th, we now have a greater awareness of the people that risk their lives everyday to help us...We do this to honor our brother and sister firefighters, EMS, Rescue, law enforcement workers that have given their lives to help others. Help me to honor our local hometown heroes."

In a show of unity, DeKalb County, Smithville and Alexandria Firemen along with the Smithville/DeKalb Rescue Squad, DeKalb County Sheriff's Department, Smithville Police Department, DeKalb EMS workers, Tennessee Highway Patrol Troopers and Commercial Vehicle Enforcement Officers marched out to the sounds of bagpipes to show their remembrance of the tragic event.
Guest speaker for the occasion was Staff Sergeant Brad Hennessee of the 304th Military Police Battalion, a veteran of Desert Storm and Operation Iraqi Freedom.

Hennessee recently returned home from six months of overseas deployment to Kuwait and Iraq. He gave a rousing speech expressing his thanks to the citizens of DeKalb County on the warm welcome he has received since returning home. He also spoke of his concern and requested support of those still serving overseas. "I am here to speak for the thousands of soldiers, sailors, airmen, and marines who have served and are continuing to serve our country in support of Operations Iraqi Freedom, Enduring Freedom and Noble Eagle. I am here for the Special Forces operator who enters yet another cave in the rugged mountains of Afghanistan searching for the elusive Al Quaeda. I'm here for the privates in the 3rd infantry division whose tank rolled through the streets of Baghdad to liberate that great city. I'm here for the marine corporal, who fought foot-by-foot, doorstep-by-doorstep in the bloody streets of An Nasariyah while his fellow marines fell around him. I'm here for the airman who worked 18 hour days maintaining the aircraft that gave our ground troops much needed air support. I'm here for the sailors who stood their long watches to maintain a naval presence in the theater of operations. On behalf of these brave men and women, I want to thank you for your love, your support and all the prayers that you prayed for us while we were gone and while we're still gone. I ask that you continue to support these brave men and women who in the last few days received word that they're going to be there a year and some up to two years. That's a lot to ask, a lot to sacrifice. I just ask that you continue to pray for them, to support them, and if you know soldiers and sailors that are deployed, send them lots of mail - it means a lot. Just pray that they will all return home soon and return home safely."

CMT Star Rhonda Vincent along with her brother, Darren, topped off the event, entertaining the crowd with musical selections fitting the occasion.

Bradley Johnson played 'Taps', and the event came to a close with the crowd singing 'God Bless America'.

The evening was summed up greatly by Katherine Cudney who, before performing her beautiful rendition of 'The Wind Beneath My Wings', said, "I think that on 9-11 a little part of all of us died and may God give us the grace to be worthy of the sacrifices."
---
Dixieweb - The Middle Tennessee Times
206 East Public Square
Smithville, Tennessee 37166
615-597-2100 Fax 615-597-4119

---
| | | |
| --- | --- | --- |
| | Sep 16, 2003 | |
Copyright @1999-2004, JParsons. All Rights Reserved.
Site Created by JParsons.