This article is available online at:
http://www.chillicothegazette.com/news/stories/20030809/localnews/33821.html
---
A 'Country Kid' Entertains The Fair
Country singer Aaron Tippin belts out the tunes
Saturday, 09 Aug 03
By BROOKE BUNCH
Gazette Staff Writer

---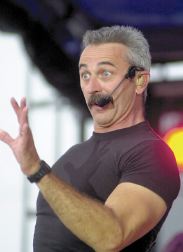 Robert J. Moorhead

Country singer Aaron Tippin performed a concert Friday night at the Ross County Fair.
Voices filled with excitement carried over the crowd as last-minute guests hurried to their seats just before 8 p.m.
The voice of a five-year-old boy blasted over the sound system, "Welcome my dadda, Aaroooon Tippin!"
Women screamed, children cheered and men hollered -- all to welcome Teddy Tippin's dad Aaron to the grandstand Friday night at the Ross County fair. The country star packed the house as he roused the crowd with his honky-tonk tunes.
"This is what America is to me," said Tippin in a pre-show interview. "I was raised a country kid. This is livin'. This is where it's at."
Tippin said growing up in the country of South Carolina, only two things were really important to him -- Christmas and the fair.
"There's no better smell than a cross between corn dogs and cow poop," laughed Tippin. "There's nothing better than that."
Tippin felt right at home with his fellow "country boys and girls."
"This ain't my first rodeo," said Tippin. "I've been here before, it's great. I'm looking forward to it."
As was Chillicothe fan, Renee Oakes, who arrived three hours early to secure a close seat. Oakes was struck with a wave of giddiness when inquired about her favorite country star.
"Oh my gosh, look at him," said Oakes, as she clutched her newly-purchased Tippin T-shirt. "There's just something in his eyes."
For Jackie Sprouse, her affection goes a bit deeper.
"I love his voice," said the 28-year-old fan, who saw Tippin play at the Ross County Fair a few years ago. "He puts on a great show. He doesn't stand in one spot -- he's all over the place."
Tippin's animated concerts have attracted fan Judi Parsons for the past two years. Parsons drove all the way from Delaware to Ohio to see Tippin perform at the Ross County fair. The dedicated fan is following the star to concerts in Pennsylvania on Saturday and Tennessee on Sunday.
"Of all the performers I've ever seen, his shows are the most dynamic," said Parsons, who attended more than 300 shows last year. "They're very lively, they're a lot of fun. He draws a nice crowd."
Parsons said she's met Tippin on several occasions after concerts when he takes some time to greet his fans.
"I love to do that," Tippin said. "I like them. I'm one of them -- I'm a country fan. I'd be out there with them."
Tippin even went so far as to make a special visit to a 75-year-old fan on Higby Road who couldn't make the concert due to a bad knee.
"He's a really super nice guy," said Parsons. "I'll never follow another performer like I do him."
Copyright ©2003 Chillicothe Gazette. All rights reserved.