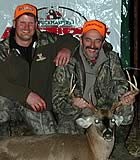 Buckmasters TV Show Kicks Off 2003 Season
By Ken Piper
---
Buckmasters begins the 2003 TV season this weekend on TNN with shows at 10:30 a.m. on Saturday, July 5; and 10 a.m. on Sunday, July 6.

Jackie and the Buckmasters film crew continue a long-time tradition by starting the television season with the Buckmasters Classic Life Hunt. Each year in January, Buckmasters, in partnership with the Buckmasters American Deer Foundation, hosts this special hunt for kids (and some adults) with severe illnesses or disabilities.

Country music star Aaron Tippin and comedian Jeff Foxworthy participated in this year's hunt, helping to keep the camp lively and entertaining, even when the hunting was a bit off. But after a slow start, the action really picked up for this year's hunt, and the kids were able to take some excellent bucks.

Tippin had just returned from his tour in Afghanistan, where he put on 10 shows to help entertain U.S. troops. Tippin said The Buckmasters Life Hunt, although tough to squeeze into his hectic schedule, was important. "You look at these kids, 17-, 18-, 19-year-old kids, and it's spooky when you think about what they've been through and what they have ahead of them. It really makes you appreciate the good things you have, and I just enjoy sharing this experience with them."

Foxworthy has been a regular at the Life Hunts, keeping everyone laughing with his great sense of humor.

So tune in this weekend to catch the 2003 Buckmasters season opener, and tune in each week on TNN. Once again, times will be 10:30 Saturdays and 10 Sundays.

Ken Piper