Aaron Tippin Youth Hunt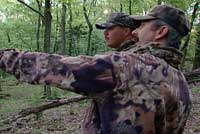 He sings about real life, country livin', boy and girl next door. Country star Aaron Tippin lives it too! Wild Side Guide Dennis Ferrier joins Aaron out in the field on a special TWRA youth turkey hunt in Dekalb County, Tennessee. Teenager Justin Cripps won a contest at Aaron Tippin's Gun store to spend the day hunting with Aaron.
We also learn that the charity "Hunters for the Hungry" is very dear to Aaron's heart. It's a program that helps fund shelters, homeless missions, and also donates thousands of pounds of meat to the needy every hunting season. If you are interested in getting more information on the Tennessee Hunters for the Hungry program you can go to the Tennessee Conservation League web site, or call them at (615)353-1133. They also will gladly except a cash donation that will go towards continuing this worthwhile charity.