The article is available online at:
http://dixieweb.com/2002/090302.htm
---
Tippin Song To Aid Healing On 9-11 Anniversary
By CHRIS TRAMEL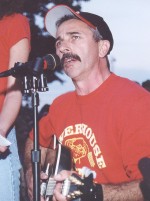 The American Red Cross has teamed up with Lyric Street Records to commemorate the events of September 11 by organizing a special nationwide simulcast of Aaron Tippin's patriotic song, "Where The Stars and Stripes and the Eagle Fly."
The event will take place on Wednesday, September 11, 2002 at 9:11 a.m. and will pay tribute to the enduring strength of the American people. The airing of the song will be followed by a brief public service announcement from the Red Cross.
Aaron Tippin, Lyric Street Records and others associated with the commercial single of "Where the Stars and Stripes and the Eagle Fly" donated proceeds to the Disaster Relief Fund of Nashville Area Chapter of the American Red Cross.
The song debuted at DeKalb County's Rally for America which was held at the DeKalb County Courthouse on September 18th last year. The event saw thousands of DeKalb County residents showing their patriotism and prayers during the country's time of need after the tragic events in New York, Washington and Pennsylvania.
"We feel that this nationwide radio airing will show strength and unity and serve as a form of healing, in a positive way," says Darren Irby, vice president of External Communications for the American Red Cross. "So we would like to ask Country Radio stations in every time zone, in small and major markets alike, to take this opportunity at 9:11 a.m. on September 11 to play Aaron Tippin's song, "Where the Stars and Stripes and the Eagle Fly," followed by the special Red Cross message for their local community audience and - as a format - make this a national event."
"This song has been an opportunity to speak to people, inspire them and to help our country heal," Tippin says. "It gets a very powerful reaction when I perform it live, and I really appreciate Country Radio initially embracing this song and still continuing to play it."
Lyric Street Records is a part of the Buena Vista Music Group. The Buena Vista Music Group is the recorded music and music publishing arm of the Walt Disney Company.
Since the morning of September 11, American Red Cross assistance has been immediate, constant and unfaltering, thanks to the unprecedented outpouring of support form those who contributed time, money and blood in the days and months following the attacks.
More than 55,000 Red Cross volunteers lent their physical and emotional strength, without concern for personal safety, to help tens of thousands of people cope and begin to rebuild their lives in a variety of ways including financial and emotional support, medical assistance, home cleaning and relocation.
As those affected by the September 11 attacks continue their path along the long road to recovery, the Red Cross will be there to help with long-term needs.
The Red Cross nationwide toll-free hotline, 1-866-GET-INFO, is staffed 24 hours a day to answer questions and provide information for those with needs relating to the September 11 attacks.
The American Red Cross is dedicated to saving lives, easing suffering and restoring hope at home and around the world. The Red Cross annually mobilizes relief to the victims of more than 67,000 disasters nationwide and has been the primary suppler of lifesaving blood and blood products in the United States for more than 50 years.
Last year, the Red Cross also trained almost 12 million people in vital lifesaving skills and delivered more than 21 million locally relevant community services.
The organization also assisted international disaster and conflict victims in close to 40 locations around the globe, and its emergency communication centers processed 1.2 million calls in support of U. S. military families.
---
Dixieweb - The Middle Tennessee Times
206 East Public Square
Smithville, Tennessee 37166
615-597-2100 Fax 615-597-4119

---
| | | |
| --- | --- | --- |
| | Sep 03, 2002 | |
Copyright @1999-2003, JParsons. All Rights Reserved.
Site Created by JParsons.