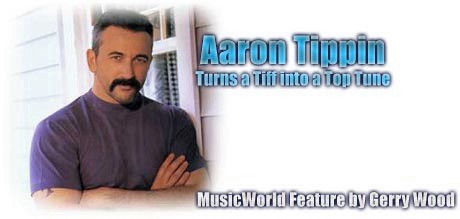 Songwriters can get their ideas from some pretty weird sources. Take Aaron Tippin, who turned a spat with his wife Thea into a number one hit. Tired of the lover's quarrel, Aaron finally said, "Let's just kiss and make up." Not ready for either action, Thea pointed to her derriere, and declared, "I'll tell you what you can kiss. You can kiss this!" Instantly, Thea, also a songwriter, stopped in her tracks. "Oh, wow!" she exclaimed, "That would make a great song!"

Aaron agreed, their disagreement was history and a song was born. They collaborated with their friend Philip Douglas to finish the tune. "Kiss This," recorded by Aaron, helped the country crooner gain his highest first week sales for an album for his new CD People Like Us.

"It's a big concert favorite for the younger girls, especially," advises Aaron, who's quick to credit Thea's first songwriting effort to make it on record. "There's nothing tougher than coming home to your wife and telling her she didn't make the cut," says Aaron. "I've had to do that, but this time it didn't happen, and that's justice long overdue."

The Tippins recently also partnered a new child, Thomas Aaron, to add to their family of Teddy, 3, and Aaron's daughter Charla, 22, from a previous marriage. Aaron recently finished a three-story addition to his hilltop middle Tennessee home to accommodate his growing family and varied interests.

"I live four lives," says the renaissance man who charged into the top 10 of the country charts with his 1990 debut single, "You've Got To Stand For Something." "Music, working out, vehicles and, most important, being the best dad I can." A large garage houses his varied assortment of vehicles, a workout room used daily by Aaron and Thea overlooks the forest, and there's a new state-of-the-a-t studio where Aaron records his hits. Sometimes he gets unrequested engineering help from Teddy, who's attracted to those fun knobs and buttons on the studio console. "You've got to keep your eye on him, man," Aaron says with equal measures of pride and worry. "He'll erase a session in a skinny minute."

An accomplished pilot with his own hangar, runway and three planes, Aaron enjoys taking Teddy on aerial spins. "He's crazy about flying," says Aaron, who has a no-sweat attitude about a couple of close calls he's experienced. Recently, an instrument failed mid-flight. "I reached down and hit the generator switch and the engine quit," he relates. "I now have some words to live by: 'Whatever you did last, undo it'." He undid the generator switch, and the plane perked back to life just in the nick of time.

The same philosophy that kept his plane airborne also keeps Aaron's music profession soaring. "Lyric Street Records pretty well put me in charge of my music," he praises. "If it blows up, we won t be able to blame them, will we?"

All content Copyright 1994-2003 ©,
Broadcast Music, Inc. unless otherwise specified.