This article is available online at:
http://www.eaa.org/communications/eaanews/081800_tippin.html

SINGER AARON TIPPIN VISITS EAA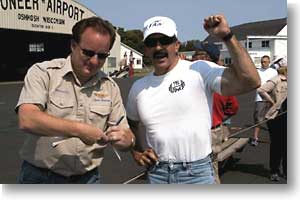 Singer Aaron Tippin, right, has his log book signed by NAFI's Sean Elliot following his flight above Oshkosh in EAA's Ford Tri-Motor Aug. 12.

Before he took center stage at the Winnebago County Fair Saturday, Aug. 12, country music recording artist Aaron Tippin took an opportunity to visit the EAA's Oshkosh headquarters and AirVenture Museum as well as take a ride on the Ford Tri-Motor plane at Pioneer Airport.
An EAA member and pilot himself, Tippin came here at the invitation of EAA President Tom Poberezny. Tippin always tries to fit AirVenture Museum into his schedule when performing in this part of the country. He owns four planes including a Cessna 195, two Piper Cubs and a Chipmunk.
According to Sean Elliot, executive director of EAA's affiliate organization, the National Association of Flight Instructors (NAFI), Tippin was thrilled after co-piloting the Tri-Motor Saturday afternoon. "He sat in the right seat and had the controls for much of the flight," said Elliot. "He did a pretty nice job, too." They flew over the grandstand where he would perform later that day. Elliot even signed Tippin's logbook.
At one time, flying was Tippin's career. He was a multi-engine instrument commercial pilot and even flew for a major airline before moving to Nashville in 1986 to embark on his recording career. Tippin currently records for Disney's Lyric Street Records, and his latest album is "What This Country Needs" (1998).
"If you saw a plane flying around over the fairgrounds today, that was me," Tippin told his audience on Saturday night during his encore. He reportedly added several complimentary words about EAA and the merits of our organization.
---
EAA Aviation Center
P.O. Box 3086
Oshkosh, WI 54903-3086
www.eaa.org
Phone: 920.426.4800

---
All content, logos, pictures, and videos are the property of EAA
Copyright © 2002

©2002 EAA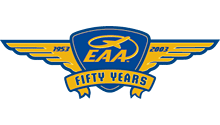 ---