11.10.2000
Tippins Tops With "Kiss This"
Aaron and Thea Tippin each celebrated a first during the #1 celebration for "Kiss This" at BMI (October 24): Aaron's first chart-topper on Lyric Street Records and Thea's first songwriting cut. While the husband and wife team have been writing together for years, this was the first time one of Thea's songs was included on an album (much to Aaron's relief, he joked); in addition to her recognition as a writer, she also collected a #1 cup as a publisher for Thea Later Music. Joining in the congratulations were staffers from publisher Acuff-Rose Music, Lyric Street, and co-producer Biff Watson (his first #1 project as well). Aaron previously hit the top spot as a writer with his 1992 hit, "There Ain't Nothin' Wrong With the Radio." His next single will be the album's title track, "People Like Us," which he co-wrote with David Lee Murphy and Kim Tribble.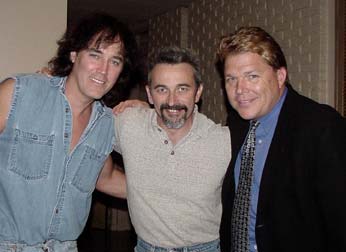 David Lee Murphy, Aaron Tippin and David Preston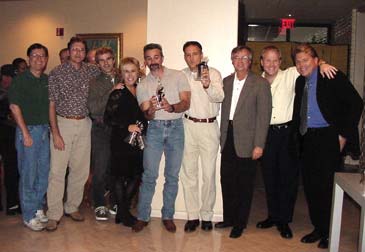 Lyric Street's Doug Howard, producer Biff Watson, Thea & Aaron Tippin, Lyric Street's Randy Goodman and Dale Turner, Acuff-Rose Music's Troy Tomlinson, and BMI's David Preston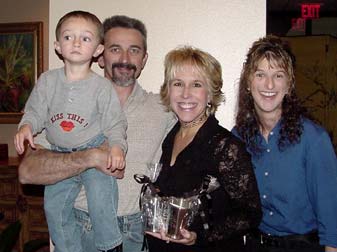 Teddy, Aaron, Thea and Charla Tippin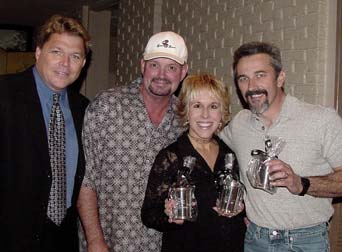 David Preston with co-writers Philip Douglas, Thea & Aaron Tippin
Photos by Alan Mayor

All content Copyright 1994-2003 ©, Broadcast Music, Inc. unless otherwise specified.
All marks indicated by the ® are registered trademarks of Broadcast Music, Inc.