Tippin talks turkey
Story and photos by Page Haynes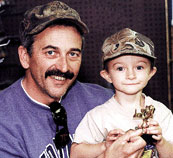 Two-year-old Teddy Tippin is fortunate to have a sports-loving father with whom to share such joys as winning a fishing trophy. Country music superstar Aaron Tippin, a patron of DeKalb Farmers Cooperative and an ardent wild turkey hunter, sows 20 to 30 acres of wildlife food plots on his farm. He says BioLogic is his wild game seed of choice. See story on page 4.
— Photo by Page Haynes
With one platinum and five gold albums to sing about, country music superstar Aaron Tippin is well known for hits like "My Blue Angel," "Call of the Wild," "Working Manís Ph.D.," and "Youíve Got to Stand for Something." But between tours and shows, one of his favorite pastimes is hunting.
In fact, he enjoys the sport so much that this marks the second year he has sown food plots throughout his 300-acre farm near Smithville in DeKalb County. The seed of choice for the wildlife plots is BioLogic, one of many items that Aaron purchases at DeKalb Farmers Cooperative.
A competitive sportsman who enjoys the challenge of a good hunt, Aaron has hunted squirrel, quail, mountain grouse, and deer. But he says his absolute favorite game to hunt is turkey.
Aaronís father, Willis Emory Tippin a professional pilot whoís called "Tip" by his acquaintances began teaching his talented son all about firearm safety and how to hunt when Aaron was 4 years old. Eager to follow in his fatherís footsteps as an avid hunter, the young Aaron was soon a skilled marksman.
"I started squirrel-hunting ó thatís the game to start with when youíre little," says Aaron, who grew up in Travelers Rest, S.C. "Of course, then we had squirrel for supper that night because my dad believes that if you kill it, you need to eat it. Shortly thereafter, I gave up hunting squirrels - they werenít very tasty!"
While in high school, Aaron became interested in deer hunting. But because South Carolina had a limited deer population, hunting was difficult. Aaron soon shifted his attention from hunting to focus on his career. He became a multi-engine instrument commercial pilot and pursued a top job with major airline carriers before deciding to move to Nashville in 1986 to begin singing and songwriting. In 1990, he signed with RCA Records as a singer and released several award-winning albums. In 1998, he signed with Disneyís Lyric Street Records and released the album "What This Country Needs" and his newest work, "People Like Us."
Aaronís passion for hunting was rekindled about four years ago when he tried turkey-hunting after a 10-year lapse from the woods. Aaron says no other types of hunting compare to stalking a wild gobbler.
"Turkey-hunting is the combination of all types of hunting," he explains. "It is very action-oriented. Youíve got to do a lot of walking sometimes running to get to the bird before he quits gobbling. And then, thereís the stealthy part of being quiet and still after you set up and are waiting on that bird."
"Itís a great sport that keeps you in shape," adds Aaron, whose additional hobby is bodybuilding. "Itís you against him. You listen for the birds and call them. If one answers you back, youíve got a' hot bird,í and you try to set up on him and get as close as you can without being seen. The closer the sound, the better chance you have to harvest him. I canít tell you how exciting it is when you roll a big bird. Afterward, itís turkey-eating time!"
At home, Aaronís favorite way to prepare turkey for his wife, Thea, daughter Charla, 23, and son Teddy, 2, is to cut the breast into strips, roll them in wheat batter, and drop them in the fryer. Visitors to the Tippin homestead can also view several stuffed turkeys that the singer has harvested on his farm. His most impressive trophy sports 11/4-inch spurs and a noteworthy beard.
Though Aaronís tour schedule is demanding, he seldom turns down the chance to go turkey-hunting. In fact, he sometimes schedules his tour dates to coincide with turkey season in the areas he will be appearing. And no tours are booked during Tennesseeís turkey season April through the first week of May, and October 27, 28, 29 in select counties. Thatís vacation time!
"I take my vacation in the woods," says Aaron. "Because of my job where Iím associated with people most of the day Iíve grown to appreciate the solitude of being absolutely by myself out in the woods."
Although he occasionally hunts out of state, Aaron mainly goes with friends around Middle Tennessee. He enjoys hunting on his own property, too, where 20 to 30 acres of food plots are planted and are often visited by a variety of wildlife. For the plots, Aaron visits the Co-op and purchases BioLogicís Fall Premium Perennial Mix and Turkey T.O.P blend, Trophy Whitetail Clover, and a mixture of soybeans and wheat.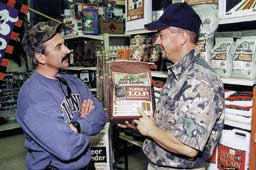 Darrin Barnes, right, sales coordinator at DeKalb Farmers Cooperative in Smithville, shows music superstar Aaron Tippin a bag of Turkey T.O.P. blend, BioLogic's newest seed. An avid sportsman, Aaron loves the thrill of an exciting hunt and says he'll do "just about anything" to bag a good-sized gobbler. Co-ops across Tennessee offer a variety of BioLogic food plot mixes and other hunting products.
"I love BioLogic," Aaron tells Darrin Barnes, sales coordinator at DeKalb Farmers Cooperative. "Itís good stuff. Iíve only used it one season last year but it did well. In fact, the turkey are eating the tarnation out of it!"
"I plant food plots strictly for wildlife," he adds. "I care about all types of wildlife. I only shoot the biggest game, and I eat what I shoot. Itís game management. You kill whatís necessary for the advancement of the sport. Iíll do whatever it takes to further the game.
"My dad taught me that game management is what is most important, and I believe he taught me well. He is the most outstanding man in my life. Jesus is at the top of the list and my dad is right under him in matter of importance. He is a major influence in who I am, what I think, and how I believe. Heís definitely top-notch!"
Aaron says turkey-hunting just seemed to come naturally to him. After he became so interested in the sport, many people told him that long ago his late great-grandfather had been quite a whiz at turkey-calling.
"Heíd take a leaf and make a diaphragm out of it to call a turkey," Aaron says.
"I guess turkey hunting runs in my family," he adds. "I must have gotten it honest. I hunt almost every day during Tennesseeís season. At the end of the season, Iím drained because I have been going constantly. I usually lose five to seven pounds the first four days of turkey season because Iím on the move. Iíd climb a bluff to harvest a turkey. Iíll just about do anything. Iím on the hunt!"
Aaron is this yearís official spokesperson for Hunters for the Hungry, a cooperative program sponsored by the Tennessee Conservation League and the Tennessee Wildlife Resources Agency to provide venison to food banks and soup kitchens for those in need. For more information on the program, see Co-opís Fall 2000 Sportsmenís Catalog on page 7.
Sportsmen can see Aaron in action as a hunter on this yearís Knight & Hale turkey-hunting video, Volume 5. Knight & Hale hunting videos along with a variety of BioLogic blends for deer and turkey that can be planted in the fall and spring are sold at Co-ops throughout the state.