Feature Article
Aaron Tippin - Up Close And Personal with Country Line Magazine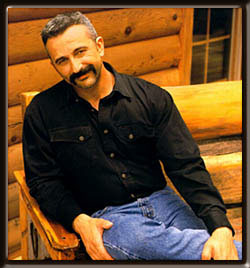 Aaron Tippin is just a regular guy in a lot of ways. He loves to work out and exercise. He works on his ranch, building retaining walls and out buildings. He loves to hunt deer and is crazy about turkey hunting. When we called him, he was working at his father- in-law's community airport welding together a building and filling up planes.
On the other side, he is one of country music's most unique voices and a highly respected song writer. Recently signed with the new Lyric Records label, Aaron is back after a two year hiatus with a chart smashing new CD, "What This Country Needs".
He took a few minutes between chores to talk with Country Line Magazine over the holidays. Following are a few excerpts from that conversation.
CLM: Hello, Aaron, how are you?
AT: I'm fine, thank you.
CLM: Where are you calling from?
AT: I'm at the airport. My uncle took over the lease at the Smithville airport here in the county where I live. I'm here helping him out. I'm welding him up a steel building right now. I'm just standing here in my Carhart's talking with you.
CLM: Where were you born? Are your parents still with us?
AT: I was born in Pensicola, Florida. Sure, they are both around. They are divorced, but my dad lives in Oak City, North Carolina, and my mom lives in Greenville, South Carolina where I was raised.
CLM: Recently you were featured in Playgirl magazine. What did your mom think about that?
AT: She was there the whole time. No not really; I was never nude. It was a publicity thing Billy Craven, my manager, and Thea, my wife, thought up. Actually they called us. I was reluctant to do it at first but it wasn't that bad. The worst thing was the radio guys beat the crap out of me with it. "Here's your Playgirl centerfold singing, blah, blah, blah." They beat me like a rug.
CLM: Do you still have a work out regime?
AT: Yep, I'm still at it. The last two days we have had so many stupid Christmas parties... matter of fact I have to go home early today to catch up on three body parts because I have been loafing.
CLM: Is there anything special or a special routine you use?
AT: I usually do a body part a day. Right now I am on a six day routine. It varies though, I like to change it. I just told Thea that in January we were going to change the routine. We may go back to a Bulgarian routine we used to do. If you don't constantly change it your body gets used to it. It has been real good for our relationship also. It's called fighting the bear- you have to have a partner that you can count on to remove that weight off of you sometimes. If it starts choking you need to be able to rely on them.
CLM: I guess if you wouldn't pick up your dirty socks off the floor or something one day she could slow down when you were calling her to remove the weight.
AT: I don't know. If I did; I'd bottle it.
CLM: Just for the record, is that a true story about meeting Jerry Jeff in Wyoming and being invited to come to Texas?
AT: (laughing) You're right!
CLM: What about eating, any special diets or eating habits?
AT: Well I'm on an all protein diet right now.
CLM: You don't look overweight. Is that the all meat diet?
AT: I was feeling kinda fat this summer. Lots of protein and lay off the sugars and carbohydrates. I've lost 15 pounds in the last month. Thea won't try it, but I like it.
CLM: How long have you been working on "What this Country Needs"?
AT: Actually about two years. I wanted to do something extra special. I have worked on it real hard to make sure I picked the best songs and I think it shows. I am glad to be back writing also. It is what I love. Hang on T.J. I'm out here at the airport and I'm the only one here and I need to fill up this guy's plane. I'll call you right back.
45 minutes later
AT: T.J., I sure appreciate you letting me take care of that guy.
CLM: What was he flying ?
AT: A twin Cessna. He took about 140 gallons.
CLM: Is that the 100 octane aviation fuel?
AT: Yep, and we have the best price on it in the United States, $1.65 a gallon!
CLM: Has anyone told you that on "Over The Rainbow" you sound a lot like John Conlee?
AT: No not really, but there is a reason for that new sound. It's a new ballad voice. I was working with Steve Gibson on the new album. I had been out touring and vocally I was real tired while we were working on that particular song. It has a lot of high notes and strange arrangements so Steve said 'Let's drop it a couple of keys and get it down so you can hit these high notes.' We did it and low and behold we had a whole new sound. It worked great. Everyone seems to like it.
CLM: What are your future plans? Lyric Records seems to be working hard with you.
AT: Well, things are looking great. The new CD is flying high and their team is really behind me. It is a great feeling. I just plan on working hard and trying to put out hit records. I've got a few things written, but I am just starting to save up some new stuff. They are real big on me writing and so that is something I am doing. I think that is my biggest passion.
CLM: What words of inspiration or warning can you give someone trying to break into the business.
AT: I think the best words of wisdom would be to be unique vocally. I think the days of sounding like everyone else is coming to a close. I think that is one reason why I am being accepted back at radio is because my voice is different. Like Willie it's different. I think that it is the way the industry is going. No more sounding just like Garth or George Strait or Clint. I think it is where we are going, going back to it. So I would say, it is being unique vocally.
T.J.Greaney CLM Staff
Country Line Magazine
P.O.Box 17245 Austin, Texas 78760
voice (512) 292-1113 ~ fax (512) 292-1112
email editor@countrylinemagazine.com