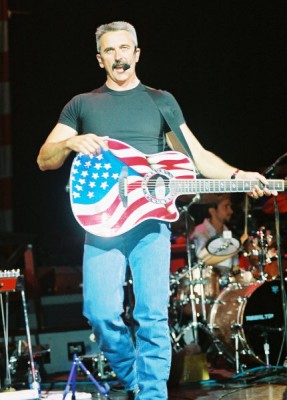 Photo Credits: JParsons
Pigeon Forge, TN 10 Aug 2003
Aaron Tippin
September 2003
Aaron recalled meeting Mr. Hope, just before getting on the plane to go overseas to entertain US troops on the verge of the first Persian Gulf War. "He was in a crowd of reporters doing the media hoopla thing, and he also was telling jokes to the troops around. I'm standing in a corner like a scared pup. I was all by myself. Lo and behold, he looked up and saw me. He broke the crowd. He said, 'You gotta stand for something or you'll for anything.' I was like, I can't believe he knows my song! I was real proud of that."
Aaron Tippin on Bob Hope
Country Stars Remember Bob Hope ~ 2003 Cox Radio Interactive
Please do not forget to keep our military personel overseas and their families
in your thoughts and prayers.