This article is no longer available online.
---
Heart Of The Country: Aaron Tippin's Music Doesn't Veer Far From His Roots

Friday, 22 August 03
By Steve Crump
Times-News writer

---
FILER -- He was red-white-and-blue before much of the country music world embraced the flag, but Aaron Tippin says it's not surprising that Nashville has rediscovered patriotism with such a passion.

''It's about the values that we share,'' said Tippin, who will headline the opening-night concert at the Twin Falls County Fair here Wednesday night. ''Patriotism never goes out of style. It's always gonna strike a chord with Americans.''

A decade before Toby Keith's ''The Angry American'' and Darryl Worley's ''Do You Remember,'' Tippin released an album called ''You've Got to Stand for Something,'' just in the wake of the Gulf War. Its title cut became a huge country hit -- easily the biggest patriotic Nashville success since Lee Greenwood's ''God Bless the USA'' in 1984.

And its theme, about Tippin's farmer father and the way he stood up for what he thought right, came straight out of the singer-songwriter's experience.

Born in Florida and raised in South Carolina, he learned hard work -- and how to play the guitar -- on the family farm. After high school, Tippin set out to become a commericial pilot, but grew discouraged by the downturn in the airline industry during the recession of the early '80s. So he drove a truck, worked at a string of blue-collar jobs -- and played honky-tonk in roadhouses in his spare time. After his marriage broke up in 1986, Tippin moved to Nashville and, against all odds, landed a job at the legendary Acuff-Rose music publishing company, writing songs for Charlie Pride.

In 1990, Tippin recorded his own demo tape -- and RCA signed him to a contract.

''I just like good music, and that's what I listen to,'' he said in a telephone interview earlier this week en route from Parkersburg, W. Va., to St. Ignace, Mich., where he had gigs. ''I love bluegrass, but I grew up listening to Frank Sinatra and Dean Martin because my dad liked them. I think Dean Martin is the best singer I ever heard.''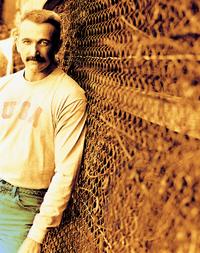 Photo courtesy Fresh Design
Aaron Tippin helps ignite the revival
of patriotic themes in country
music.



Maybe so, but the Aaron Tippin canon doesn't veer much from honky-tonk -- or Neo- Traditional Country, as it's properly called.

His second album, ''Read Between the Lines,'' was a million-seller, producing three hit singles in "I Wouldn't Have It Any Other Way," "My Blue Angel," and his first No. 1, "There Ain't Nothing Wrong With the Radio." ''The Call of the Wild,'' released in 1993, was pure blue collar, and the title cut and "Working Man's Ph.D." both made the Top Ten. Tippin's fourth album, ''Tool Box.'' released in 1995, featured the hit single "That's as Close as I'll Get to Loving You."

In 1998, Tippin switched record labels, to Disney's Lyric Street Records. His first album for Lyric Street, ''What This Country Needs,'' produced the hit single ''For You I Will.'' The follow-up, ''People Like Us,'' in 2000 became the first Tippin album to make the country Top Five, thanks to the No. 1 hit "Kiss This.''

Tippin's post-9/11 "Where the Stars and Stripes and the Eagle Fly" reached No. 2 on the country charts and made the pop Top 20.

So given that track record, does he think Nashville -- which has struggled in recent years -- is headed in the right direction?

''I don't know what to say about that,'' he said. ''I appreciate what (pop-influenced) Shania (Twain) and Faith (Hill) and a lot of other people have done, but I just sit down, shut up and play.''

Tippin owns four planes and flies whenever he can, but rarely to concerts. ''I'd rather be on the bus with the boys,'' he said.

And at 45, he tours almost constantly -- the night before his Twin Falls County Fair performance, he's playing the Evergreen State Fair in Monroe, Wash., and two days later he's scheduled for a gig at the Alaska State Fair in far-off Palmer.

''I stay home during the Christmas season, but I'm on the road most of the rest of the year,'' he said. ''We released an album earlier his year, and I'm about to start work on another one.

''Music is my life, and I love what I do.''

Concert Wednesday
* What: Aaron Tippin will kick off the festivities at the Twin Falls County Fair with an opening-night concert.
* When: 8 p.m., Wednesday.
* Where: Main Stage.
* How much: The concert is free with fair admission, although reserved tickets to the show are available. Gate admission is $6 for adults, $5 in advance. Kids are $4 at the gate, $3 in advance. Tickets are available at the fair office or by phoning 326-4398.




Copyright © 2003, Lee Publications Inc. All rights reserved.