This story is available online at:
http://obsentinel.womacknewspapers.com/articles/2003/12/19/entertainment/2tippin.txt
---
Tippin Tips Hat To Toys For Tots

12/19/03

BY OWEN A. HASSELL
SENTINEL STAFF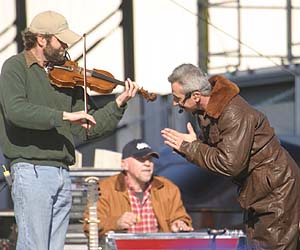 Even the entertainment reflected a passion for aviation Monday at Wright Brothers National Memorial.
Country music singer Aaron Tippin highlighted music for the fourth day of activities during the First Flight Centennial celebration, which ended Wednesday in Kill Devil Hills.
Most of Monday was spent looking at the skies at the wide array of aircraft on display. From military planes to ones named for a spouse (the Darla Dee for example), it made people take notice.
"The variety and types of aircraft was very educational and it's very easy to see the progression of flight over time," said Charles Williams, 21, of Fayetteville. "Kind of symbolic in a way."
That symbolism continued with the addition of Tippin to the lineup, who is a certified flight mechanic and learned about aviation from his father, a former military pilot.
It was all patriotic-based for the singer on the day after U.S. forces captured former Iraqi President Saddam Hussein.
"We got the big one yesterday," Tippin said.
As an advocate for the Toys for Tots program, Tippin went on stage to perform his song "Working Man's Ph.D." with a bunch of bike parts.
While singing, Tippin began to put the bike together and finished before the end. Once done, he donated it to the local Toys for Tots, which helps children in need have a Christmas filled with toys.
The same as other days, paratroopers dotted the Kill Devil Hills sky and from F-18 Hornets to the simplest of gliders, it was a celebration of the development of flying machines since the Wright Flyer of 1903.
At the end of Tippin's final song of the concert, planes raced by overhead, showering the air with smoke in the country musician's salute to the country and flight.
"Because of that older Tippin over there, I learned more about this," Tippin said.
Owen A. Hassell can be reached at 480-2234 or owen@obsentinel.com
Copyright © 2003 The Outer Banks Sentinel. All Rights Reserved.