Aaron Tippin - A workin' man's workin' trucks
Big star, big trucks
By Michael Perry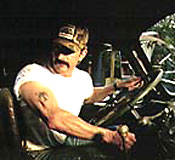 A ways east of Nashville, there's a holler full of trucks. Eleven of 'em, a rough, beat-up bunch, faced inward on a semicircle. At one end of that semicircle is an old wooden shop. You can read a lot about a man by his shop. This one is generally organized, but retains the comfortable clutter of use. A worn stand-up toolbox stands front and center; a screwdriver handle and a few wrenches protrude from gapped drawers. A torn-down transfer case rests alongside a homemade straddle pit. There's an old yellow fridge covered in stickers, a plumb ugly bench upholstered in Naugahyde, a tiny, tinny boom box tuned to a country station, and a pair of dusty fishing poles. And hung on a hook on one wall, along with a mess of other things, an old forest-green hard hat. On the side, in scuffed orange letters, it says, "98 TIP."
"TIP" is Aaron Tippin, the man who first caught the attention of country music fans in 1991 with the single, "You've Got To Stand For Something." Other hits followed Ñ "Workin' Man's Ph.D.," "I Wouldn't Have It Any Other Way," "I Got It Honest," "That's as Close as I'll Get to Lovin' You," and "My Blue Angel." Since his debut hit, Tippin has produced three gold albums, one platinum album, and is currently on the charts with his fifth and most recent album, "Toolbox."
But today we don't spend five minutes talking about music. Aaron Tippin wants to talk about his trucks.
Tippin's trucks aren't museum pieces. He's pulled them out of junkyards, yanked them from the weeds, even spotted a few along America's backroads from the window of his tour bus. But where did it all begin?
"I think it was kind of an accident," chuckles Tippin. He points across the clearing where his former bus driver, Smitty, is carving out a pad for a bus garage, moving fill with a red-and-black '74 Ford F750. "First dump truck I had on the place," he says. "It's been a good old truck. But I got it, and I thought, this thing won't hold enough dirt to suit me, so I found that old Mack over there."
Tippin nods toward a Mack B42 at the far end of the row. It has a black box, and a cab best described as "yaller." "Bought it over in Dickson, Tennessee. Me and Smitty went out there and got it cranked, got it goin', and away we went. It had dirty old fuel in it Ñ I mean the fuel was like motor oil, and it was still runnin'! But it kept gettin' slower and slower, so we stopped and put a new fuel filter in it, and POW! She took off like a shot.
"That's the funny thing about these old Macks. Generally, if they're sittin', in any condition similar to this, you hook a chain to 'em and in twenty feet, they're runnin'. They wanna live more'n anything I've ever been around."
Tippin's eyes are bright. "Now that is a spectacular feelin'. Tuggin' on an ol' truck, seein' that smoke comin' outta the stack, then she cracks, and then BRROOOM, it comes to life, and everybody that's helpin' can't help but dance around and holler a little bit."
Tippin points out a Mack B61 dump truck. "This one's special. I got that from a good friend, Billy Ferguson. Billy did the whole campaign with Patton in World War II ... talk about stories! The Ferguson brothers got out of the war, came home and bought a dump truck. And now anybody in Mississippi knows the Ferguson Brothers company. They still run Macks." Next in line is a faded red Mack tractor. "That's an LJ," Tippin says. "I believe it's a '47. The cab is built on a wood frame. It's got a Cummins engine in it, which is unusual for a Mack. They tell me that's one of the first over-the-road trucks built that'd do a hundred miles an hour. Buddy, that's flyin'!"
Next to the LJ, a Mack B67 is hooked to a lowboy. "I bought that off a guy in Missouri. It was out there rustin' away. That's an old 40-ton two-axle lowboy. Forty tons on two axles is unheard of nowadays. I use it to haul my dozer."
The other trucks in the semicircle include a '61 White Mustang in-line six-cylinder gas burner with a short dump box, and a pair of Mack H67 cabovers. "I figure I'd like to get me a cabover goin'," Tippin says. "If you're gonna haul equipment in tight places, you're better off with a short wheelbase, and you can see a little better outta that thing, too."
Tippin has been using his trucks (and a small fleet of excavation equipment) to complete several major projects on his farm, including the bus garage, a driveway that winds through the hills like a dusty Cumberland River, a clearing and basement for his new house, and soon, a runway. "In the end, I'd like to restore one or two of 'em," he says, "but until we get done what we need done, they gotta work."

His love for working trucks was born early. "Six years old, growin' up on the farm, I was too little to carry a bale of hay, so I got the steerin' wheel of the truck. Dad put 'er in gear and she'd idle down through the field at 3 mile an hour and you just kept 'er straight."
Tippin's father was also a flier, and the youngster fell in love with airplanes. He got a pilot's license and was steering toward a career as a commercial pilot when the 1980s' energy crisis led to his being laid off and grounded his plans. And so, still in his early 20s, Tippin got his CDL.
"I pulled for Cooper Motor Lines. Drove a White Road Commander. Then I drove a Jimmy for Carolina Western, haulin' dry freight." Between runs, he took up serious body building and started playing honkytonks, but the days when he would see his songs on the charts were still years away. So he kept working, accumulating experiences that influence his music to this day.
The bright lights have done little to fade the blue from his collar. When I ask him about the old green hard hat hanging in the shop, his voice drops, becomes almost reverent. "That's my old construction hat. Sure is. That's the real deal." Tippin wore the helmet during years spent welding bridge girders and stainless steel textile mill equipment. Nowadays he dons a hard hat to open his shows. "Someone told me I should use my old construction hat, and I said, 'No, that hat ain't for fun. It's for real.' "
This topic brings about an awkward moment of truth: I once wrote in a review that the hard hat reminded me of the 1970s' novelty act, The Village People. I tell Tippin so. It's not a comfortable moment, facing someone you've criticized in print, but after a short pause (it seemed very long to me), Tippin finally chuckles. "Yeah, that's why I wear it for one song and then get it off!"
But then the grin fades, and he looks me straight in the eye. "I've been whupped and whupped by people who write stories about how corny it is, but obviously to the crowd, it's not corny. I do 'Workin' Man's Ph.D.,' or 'I Got It Honest,' and they're on their feet. They get it the same way I feel it. That's important to me ... that's who I'm tryin' to please."
Tippin's CDL is still current, and comes in handy when he and his band are on the road. "Buses now have to abide by the same laws as the trucks do, as far as drivin' hours are concerned. Generally if we have an overdrive somewhere, I drive ... so it depends where we've got to go. If it's California, I've got a leg in it somewhere."
But whether it's farm trucks or sleek tour buses, you can bet he would rather be jamming a set of old gears. "I always loved the old B trucks," Tippin admits. "When I was in excavation, I worked for a guy who had one. It had two shifters ... you had to drive that truck. We meet a lot of drivers when we're on the road, and I guarantee you, if an old B model Mack pulls into a truckstop, every driver there goes and takes a look at it, because ..." Tippin pauses, nods his camouflage cap toward his half-circle of old rubber and steel, ready to rattle to life and lug a load. "... because it's out there still doin' what it was born to do."
Michael Perry, the author of this article, often wanders America in search of stories. He bases out of New Auburn, Wis., where he also serves as a volunteer emergency medical technician (EMT).